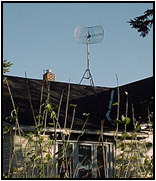 Northwinds Net is currently transmitting from the South Falls Water Tower and Fort Frances Water Tower. If you can see one of these towers from your location, you could be utilizing the high speed wireless Internet access provided by Northwinds Net.
All you need to do to get Northwinds Net Fixed Wireless Internet at your location is contact us at 218-283-8250 to schedule a site survey. This is to make sure that you do indeed have an unobstructed view of either the South Falls or Fort Frances water tower and to survey what equipment will best suit your site's needs. From there, equipment is installed and connected to your computer. Once the equipment has been connected you should be ready to use your new high speed access 24 hours a day 7 days a week.
Installation and activation of radio equipment starts at $200. This is a one time fee and may be higher if your location requires additional hardware to make the connection. This additional hardware may be items such as an Ethernet adapter for your computer, poles to support the wireless radio equipment and insure your line-of-sight, a router to support your local area network, etc.
The typical access charge is $49.95 per month for up to two computers using the Northwinds access at your location. If you have more than two computers at your location that will be using the Northwinds wireless connection, you will need to speak with Tim about your configuration to discuss your options.
Some Benefits of Wireless Internet Access provided by Northwinds Net
Fast & Reliable Internet Access
Cost Effective Broadband Solution
Always Connected to the Internet
Unlimited Usage
No Phone Lines Required
Click here to view the frequently asked questions page to answer any other questions
you might have about the Wireless Internet Access offered by Northwinds Net.